Top Family Horse Riding Holidays in Europe
The go-to resource for planning your horse riding holidays. Find all you need to know about the top destinations and take your riding skills to new heights.
Discover Horse Riding Holidays now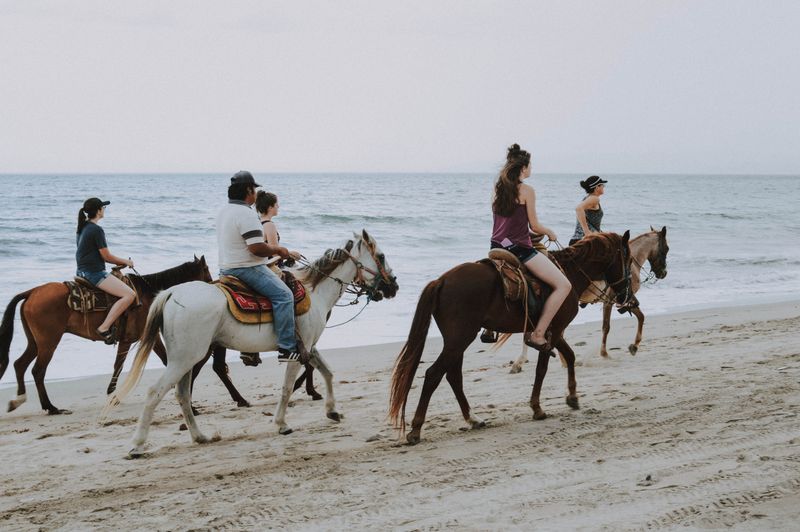 Whether you want to relax in the countryside, enjoy trail rides through olive groves or rolling hills, or go on beach rides, there are plenty of horse riding destinations in Europe to choose from.
If you are looking for a unique experience to enjoy as a family, look no further than a horse riding holiday for families in Europe. They offer the kind of active & challenging adventure that children and adults alike will remember for a lifetime.
There are plenty of benefits of horse riding for children. And while kids can get started as young as 2-3 years old, kindly note that camps usually cater for kids aged 6 and above.
When choosing a destination for a family horse riding vacation, keep in mind that there should be enough free time to relax after the day's rides. Whether you choose an area with plenty of optional things to do or an accommodation with many amenities, consider how these can keep your child busy when they are not riding.
With that in mind, here are some great family horse riding holidays in Europe that everyone will enjoy!
Note: BookHorseRidingHolidays offers a flexible cancellation policy. Should you not be able to travel as scheduled, we'd be happy to help you alter your booking with the same organizer or a different organizer.
Price per day: from €1,320
Duration: 4 days / 3 nights
Availability: May till September 2022
Skill Level: Intermediate and advanced riders
Enjoy four full days of riding in the heart of Mid-Wales on unmarked tracks and trails, exploring wild and remote hills and valleys. You will reach a new destination each day, staying at country inns and family-run B&Bs along the way. You can expect lots of trotting to cover the distance and canters wherever the terrain allows.
The trail ride starts and ends at Freerein HQ, in the Wye Valley, on the Welsh/English border. You will cover 70 miles on horseback, riding for about six hours a day. Families who love adventure will particularly enjoy this trip steeped in mystery and historic tales, a wonderful opportunity to bond and have an active, dynamic, and involved experience.
The trails are varied, with stony tracks, open hills, river crossings, green lanes, and more. You'll ride on little-used bridleways, old council roads, and timeworn drovers routes, passing the remains of Black Yatt and the mysterious grave of Twm Tobacco Ride. You'll ride to Hergest Ridge, with breathtaking views of the Black Mountains.
The package includes all daily meals.
​» Read more about The Top Places to Go on a Horse Riding Holiday in the UK
Price per day: from € 66
Duration: 8 days / 7 nights
Availability: all year round
Skill Level: all levels
Andalusia is one of the most romantic regions of Spain. Rich in history and culture, home to some very picturesque villages, and always smelling of orange blossoms, it is the perfect backdrop for your family horse riding vacation.
You'll be staying in self-catering apartments in the beautiful village of Casarabonela. Located in Sierra de Las Nieves Natural Park, at the foot of Sierra Prieta, it offers breathtaking views of the area.
The amenities include a swimming pool, pool table, dartboard, laundry facilities, and child care facilities.
The package is self-catering, so you'll need to plan your meals accordingly (there are restaurants and supermarkets nearby).
If you are looking for a different horse riding holiday, this is a great choice. You'll enjoy four days of countryside riding, suitable for beginners, as well as more advanced riders.
Beginners will start in the arena, learning basic controls and getting used to the horse. You will then go out for a hack through the countryside.
On this bronze package, intermediate and experienced riders will go on three 2-hour treks and a 3-hour trek through the countryside and enjoy more challenging routes.
You will ride through mountains, olive groves, dry riverbeds, and fields with breathtaking views over the Guadalhorce valley.
Non-riders are welcomed, and they will find plenty of things to do to keep them occupied. Children under 12 are welcomed as non-riders but only under adult supervision.
There is plenty of time to relax and enjoy the surrounding countryside. The area is perfect for hiking, cycling, mountain biking, motorcycling, birdwatching, and photography. You can also enjoy food tours, kayaking, paddleboarding, olive mills tours, or dolphin watching.
The closest airport is Málaga Airport (AGP). The transfer is not included in the package.
» Read more about The Best Places to Go on a Horse Riding Holiday in Spain
Price per day: from € 60
Duration: 4 days / 3 nights
Availability: until October 2021
Skill Level: all levels
In the heart of Tuscany, Montieri is located about 70 km / 43 mi south of Florence. It is a medieval village tucked away in a picturesque area. The nearby natural park features deserted white sand beaches, just perfect to relax after a day of riding.
You'd be staying at Hotel Rifugio Prategiano, which can be reached after a 10-min walk from Montieri. It offers the "classic" views over the Tuscan hills and valleys. There are 24 rooms, a restaurant, and a bar on site. The rooms have Italian style decoration and feature a private bathroom with shower, telephone, television, security safe, electric kettle, as well as fast Wi-Fi connection. The amenities include a swimming pool, spa, and jacuzzi.
This holiday is specifically designed for those who have no experience of riding on horseback, as well as those with excellent horse riding skills.
The beginner package includes 2 lessons or trail rides (of 1 hour each), while the experienced package includes 2 half-day trail riders.
After completing a few hours of lessons, beginners will learn the basic rules of horse riding These are designed to build your confidence in the saddle and prepare new riders for their very first trail ride.
Experienced riders will enjoy trail rides in stunning Tuscan places, complete with an opportunity for picnic for lunch.
Breakfast is included in the package. Kindly let the organizer know if you have any dietary restrictions.
There will be plenty of time to relax and enjoy other activities such as trips to Borghi, Città D'Arte, or Natura e Parchi, cycling, hiking, mountain biking, trekking, or visiting old ruins.
You can fly into one of Rome's airports (Ciampino–G. B. Pastine International Airport – CIA ; Leonardo da Vinci–Fiumicino Airport- FCO) or Pisa International Airport (PSA). The transfer is not included in the package price.
» Read more about The Best Horse Riding Destinations in Italy
Price per day: from € 84
Duration: 4 days / 3 nights
Availability: all year round
Skill Level: all levels
The horse riding holiday takes place at The Galiny Stud Farm which is situated in northern Poland in Masuria Lake District. The location is surrounded by many interesting places to visit, including a World War II site, a river, castles, and picturesque villages.
Set amid the rolling hills of the Mazurian countryside, the accommodation is a 16th century Renaissance manor surrounded by a 12-acre park. Each room is spacious and features an individual décor.
The holiday includes 2 riding sessions per day (for a total of 6 riding sessions), lunge and jumping lessons, as well as flatwork riding. You will work in small groups and the horses are matched individually to you.
There's no need to stick to a specified schedule and you'll organize your time and lessons with your instructor.
If you are a beginner, your first lesson will last no more than 30 min and will be performed in a lunge. After a short warm-up, you'll learn how to find balance in the saddle, how to sit correctly, and how to interact with the horse in the walk and trot gaits.
If you are not a beginner, you'll start with flatwork that will last for 45 min.
The package includes breakfasts and dinners, that also cater to vegetarians. Kindly let the organizer know if you have other dietary restrictions.
There will be plenty of free time to enjoy other activities. You can play tennis, kayak, take a mini wagon ride, take a bike tour in the neighborhood, swim, play volleyball, or visit heritage sites.
The closest airport is Gdańsk Lech Wałęsa Airport (GDN). The transfer from and to this airport is available upon request.
Price per day: from € 98
Duration: 8 days / 7 nights
Availability: All Year Round
Skill Level: beginner
Heraklion is the largest city and the capital of Crete. One of Europe's fastest-growing travel destinations, it is especially known for being the home to the Minoan Palace of Knossos and the Venetian Walls.
You'll be staying in the area around Avdou, which offers unlimited space for horse riding. You'll get a chance to ride through the quiet natural landscapes of the Cretan countryside, dotted with charming small villages, olive groves, and colorful hills.
You will stay at a unique hillside location in Country Hotel Velani, with a panoramic view of lake Aposelemis, an infinity swimming pool, and a restaurant with local produce. The 12 hotel rooms are grouped in two bungalows, each housing six rooms. The rooms have central heating, AC, fridge, TV, a hairdryer, a tea and coffee maker, and a large balcony.
This is an intensive program that teaches the new rider the English riding style in a very direct approach.
The package includes 6 days of riding (about 2 hours each day): two group lessons, two private lessons, and two days of hacking out in nature.
At the end of the course, the rider will be able to walk and trot independently, feeling second on and around the horse, able to make an easy outside trip, and even make a start with the canter.
This program is ideal for families and is a great choice for those who travel together with non-riders, as they may enjoy other activities available, such as hiking, biking, walking, mountain climbing, or paragliding.
The package includes a full board (3 meals) at the onsite restaurant. Drinks and desserts are not included. Do make sure to let the organizer know of any dietary requirements.
Kindly book your flight into Heraklion International Airport (HER). The airport transfer is available for additional payment. Alternatively, you may fly either into Crete's secondary airport Chania International Airport (CHQ), or into Athens and then take a ferry to Crete. If you decide to go with either option, you'd need to rent a car or take a taxi to the hotel.
*All prices are valid at the time of publication and are not guaranteed. They are subject to change without notice.
---
Escape the hustle & bustle of the city. Reconnect with nature on a horseback riding & camping holiday.