Your Guide to the Best Horse Riding Destinations in Italy
The go-to resource for planning your horse riding holidays. Find all you need to know about the top destinations and take your riding skills to new heights.
Discover Horse Riding Holidays now
Blessed with gorgeous weather, diverse scenery, rich cultural heritage, exceptional cuisine and delicious wines, it's hard to resist visiting Italy at least once in your lifetime.
A long tradition of horseback riding stretching back to antiquity and a nationwide passion for horses make this country even more attractive for equine enthusiasts.
Are you ready to discover everything "Bel Paese" (beautiful country) has to offer? Saddle up for an exciting horse riding holiday in Italy and let sure-footed and steady Italian horses take you on a journey through the best horse riding destinations in the country.
Travel update
Residents of the UK, the EU/Schengen countries, and Israel are allowed to enter Italy with just a negative antigen or molecular test result (taken no later than 72 prior to entry).
Passengers from the US may also enter but only if they arrive on COVID-free flights (subject to a series of tests prior to and upon arrival).
As of May 24, all passengers wishing to enter Italy, via all means of transportation, are required to complete the digital PLF, prior to entering the country. Passengers arriving in Calabria, Puglia, and Sicily must present a completed health declaration prior to arrival.
More details can be found here (official source).
Have you ever seen Val d'Orcia by Van Gogh? This and many other of his artworks have been inspired by Tuscany's tranquil countryside with its yellow-brown fields and lush green hills.
This serene hillside region is ideal for galloping through remote rural trails, vineyards, olive groves, farms, and cypress trees while enjoying the fresh scent of wild herbs in the air. On your way, you'll discover charming medieval villages and fortresses tucked away in the hillsides. Some of the iconic villages to visit include Talamone, Orbetello, and Monte Argentario. A horse riding holiday in Tuscany comes highly recommended for those who dream about escaping their busy day-to-day lives in the picturesque countryside.
In Tuscany, one can find horse riding holidays suitable for all levels, from first-timers to experienced riders. However, since there are many accessible trails and stables with calm, good-sized, and well-schooled horses, this region is especially great for beginners who are looking to improve their horsemanship quickly.
While Tuscany is fairly large, one of the most recommended areas for the ultimate horse riding experience is the Maremma region, with the medieval city of Grosseto as a starting point. Canter through rust-colored tracks and grassy hills, pass through winding avenues with chestnut, almond, and fig trees, and enjoy some horseback swimming in the clear water.
Photo credit: alexcap76 via Commons.Wikimedia.org
Staying in the area, it would be a shame to miss out on riding the local Maremmano horses. This warmblood breed is usually bay, chestnut or black, boasting solid legs and muscular neck, chest and withers. The Maremmanos are good-tempered, gentle and are used to harsh weather conditions and rough terrain, which is ideal for the local trails.
Tip: Much like in the Wild West in the USA, Tuscany was once home to fearless cowboys called botteri, the men not afraid of breaking in even the wildest stallions. You can admire their excellent herd-handling and riding skills in August, during the rodeo show in Alberese, a rural town in southern Tuscany.
How to get there:
The best way to get to Tuscany is by booking a flight to Pisa (PSA) or Florence (FLR) airports. From there you can reach most of the riding centers within an hour by train. The train ride is inexpensive, and you can get a glimpse of the landscapes that are waiting to be explored on horseback.
Often called Italy's green heart, Umbria boasts a lush green landscape which is considered even more authentic than neighboring Tuscany. You'll be taken by this region's stunning panoramic hilltop views. Although Umbria is a smaller region, there are plenty of attractive horse riding trails that allow you to explore this region's highlights in a shorter period of time.
Umbria boasts plenty of relaxing trails for beginner riders who can enjoy a trot through soft rolling hills, olive groves, terraced vineyards and quiet wood paths. The local expert guides will pair you with a well-schooled and responsive horse best suited for your skill level.
As a mostly rural region, in Umbria horses play a crucial role in people's lives being work companions, the means of transportation and, most importantly, animal friends. You can be sure that the horses you'll ride here are well-groomed and cared for.
More advanced riders will surely enjoy exploring Umbria's hilltop castles and monasteries, hidden valleys covered with wild poppies and small authentic villages nestled around the tranquil Trasimeno lake. Within easy reach on horseback, you'll be able to visit the cities of Spoleto, Assisi, Perugia and Orvieto, the true jewels of Roman, medieval, and Renaissance heritage.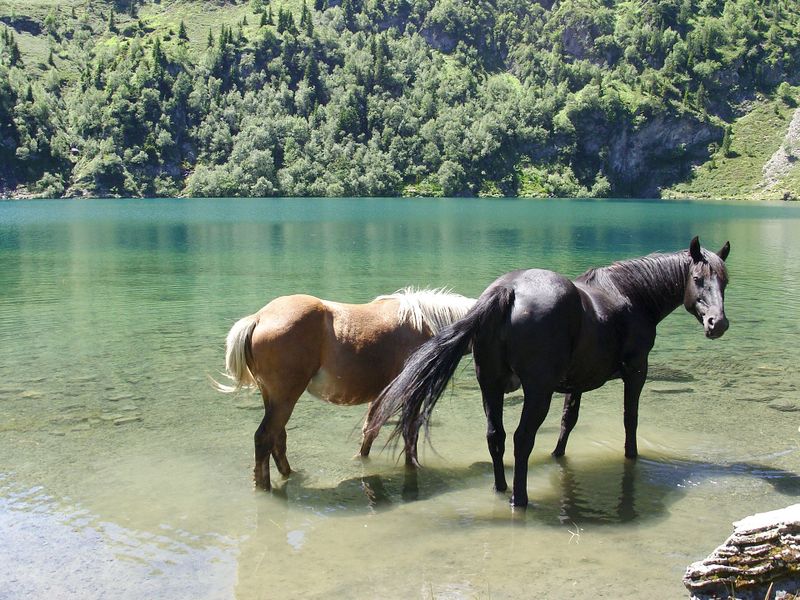 Some additional activities not to miss include truffle hunting, visiting the vineyards and tasting the exquisite local wines paired with delicious cheese.
Tip: Be sure to visit magnificent Cascata Delle Marmor, the world's tallest man-made waterfall built by ancient Romans. Nowadays, it is managed by the nearby power plant and is being turned on and off several times a day so that the visitors can see it at a spectacular full flow.
How to get there:
The best airports to fly into are Rome (FCO and CIA) and Perugia (PEG). They are well connected by train to Spoleto, from where most riding centers offer pick-up and drop-off services. Due to the close proximity to Rome, you might want to connect your horse riding adventure with sightseeing in The Eternal City before or after your holiday.
Sardinia, the second-largest island in the Mediterranean Sea, boasts a rich horse riding culture stretching back as far as the 14th century. To this day, there are many festivals, exhibitions and tournaments dedicated to honoring horses and showcasing the impressive skills of the local riders. The island is also one of the last places in Europe where wild horses still roam free.
Approximately 1118 miles (1800 kilometers) of beautiful coastline make Sardinia a perfect holiday spot for riders who enjoy water sports and beach vacations. The pristine clear-water beaches on the south of the island are perfect for romantic sunset trots, while the green pastures sitting over cliffs and crags in the north and east are ideal for gallops.
The trails that are more suitable for beginner riders lead along the south-west coast through pinewoods separated from the sea by golden dunes. On your way, you'll discover small authentic fishing villages and, if you are lucky, you can even spot a pat of pink flamingos.
More experienced riders can embark on a spectacular trail ride to the unspoiled center of the island where the landscape changes from valleys covered with golden wheat fields to hectares of pine forests and rugged mountain tracks with canyons, caves and ancient ruins.
Thanks to the deep-rooted equine traditions and horse breeding still being an important part of the island's culture, there are many diverse horse riding holidays available. In this pearl of the Mediterranean Sea, you'll find a horse riding holiday to suit every taste, from pony rides for children and beginner lessons in the indoor schools to beach or countryside rides and demanding multi-day tours.
How to get there:
The biggest airport on the island is in Cagliari (CAG), and it's the best option to fly into if your holidays are in the southern part of the island. In the north of Sardinia, the best arrival airports are Olbia (OLB) and popular for budget airlines Alghero Airport (AHO). The island is also well connected by domestic flights to all major Italian cities such as Rome, Milan, Naples, Bologna, Turin or Venice. Although Sardinia has well developed public transportation and railways, the most recommended option to reach remote locations is by renting a car.
When is the best time to embark on a horse riding holiday in Italy?
Italy has a typical Mediterranean climate with mild and slightly rainy winters and hot sunny summers. The best time to visit the mainland regions, such as Tuscany and Umbria, is between April and May and September and October. The tourist crowds are smaller than during the summer high season (June-August), but the temperatures are still pleasant, ranging from 55° F (12° C) to 80° F (27° C). Autumn is also when the harvest season in the vineyards starts and when many festivals take place.
Tip: Keep in mind that in August and in the middle of winter most hotels, restaurants and shops are closed.
In Sardinia, the high season lasts from July till August. The temperatures range from 66° F (18° C) to 86° F (30° C), but on the coastline, the sea breeze makes the air more refreshing. If you are not a fan of riding in full heat you should visit Sardinia between April and June. The sea is already warm enough to swim and the island's flora is in full blossom. For milder temperatures (55° - 72° F, 12° – 22° C), you should plan your visit in October; however, be prepared for light rain showers.
---
Are you ready to embark on a horse riding adventure in the homeland of Frankie Dettori and Lorenzo De Luca? Browse our selection of advanced horse riding holidays in Italy to improve your skills and ride some of the world's most fascinating landscapes.