All You Need to Know About Horse Riding in Andalusia
The go-to resource for planning your horse riding holidays. Find all you need to know about the top destinations and take your riding skills to new heights.
Discover Horse Riding Holidays now
From the majestic landscapes in Sierra Nevada to the stunning beaches in Malaga, Andalusia is home to the most spectacular horse riding trails you can think of.
Andalusia has it all for an unforgettable adventure on horseback. You can canter on the sandy beaches of Malaga, Huelva or Almeria; discover the Moorish jewel of Granada and its impressive Alhambra; be enchanted by the magic of the Pueblos Blancos in Cadiz; get lost in the Southern Range of Jaén; and complete your trip around the Andalusian golden triangle in the historical city of Cordoba and its mountains.
But the appeal of a horse riding holiday in Andalusia goes well beyond the beauty of its trails. This land has a vast equine tradition and a deep love for horses that is contagious.
» Looking to expand your riding adventure beyond Andalusia? Check out the best places to go horse riding in Spain.
Traveling to Spain in 2021
On June 7, Spain reopened for international tourism, allowing fully vaccinated people from all over the world to enter, including EU, UK, and US citizens. Cruise ships are also allowed to enter in Spanish ports.
Fully vaccinated travelers don't need to provide any additional diagnostic test. Unvaccinated travelers must present a negative coronavirus test (PCR, TMA, LAMP, NEAR) or rapid antigen test (RAT). Passengers who have recovered from COVID-19 may present a certificate of recovery. (source)
All visitors must complete an FCS Health Control Form.
Passengers who have a valid EU Digital COVID Certificate and who add it to the Spanish Health Control Form will obtain a QR code FAST CONTROL that will facilitate a speedier health control upon arrival. Children under 12 are exempt from presenting the certificates. However, a health control form must be filled in their name.
Andalusian Equestrian Tradition & the Pure Spanish Horse
There's no other place in Spain, and maybe the world, with a more ingrained equestrian culture than this Spanish southern region. There are plenty of equestrian schools, dressage contests, dancing horses' exhibitions, parades, carriages and the renowned horse fair in Jerez de la Frontera.
One of the most sought-after breeds across the globe is the Andalusian Horse, or the Pure Spanish Horse (PRE, by its Spanish acronym). Officially recognized in the 15th century, this graceful breed has been a favorite of kings, filmmakers and horse enthusiasts in general.
The Andalusian horse is robust and strong, but athletic and agile at the same time. These traits, which are ideal for warfare, and an unrivaled elegance worthy of royalty, made it a favorite among European kings. Charles V and Phillip II owned Pure Spanish Horses and they rapidly gained popularity all across the Mediterranean. The French monarchs Louis XIII and Louis XIV, as well as Henry VIII, from England, all rode Andalusians while they ruled.
The Pure Spanish Horse not only has a special place in history but also in literature and pop culture. It is believed that Babieca, El Cid's mare, was a white Andalusian (or back then, a noble Iberian breed). Once regarded as a worthless castoff by Carthusian monks, she became Spain's bravest horse in history thanks to her battles with El Cid Campeador.
Incitatus, Emperor Caligula's horse, was also an Andalusian. It is said that the Roman Emperor loved his horse so much that he gave him a marble stall and a jeweled collar, and that his servants fed him with oats and gold flakes. His obsession was so big that he wanted to make Incitatus a consul — and honestly, who can blame Caligula seeing how beautiful Pure Spanish Horses are?
The trilogy of The Lord of the Rings gave us another famous Pure Spanish Horse. Gandalf's Shadowfax, a gorgeous silver stallion with extraordinary speed, was played by two Andalusians, Blanco and Domero. The character was known as "the Lord of all horses", so it was only fitting that these Andalusian horses played the role.
Knowing this, it's easy to see why people in Andalusia are so proud of their equestrian roots. And with dozens of horse riding holidays, you can live and feel this enthusiasm by yourself while you also get to see the stunning landscapes and cities of Andalusia.
Best Horse Riding Routes & Locations in Andalusia
Golden Triangle of Andalusia
Feeling adventurous? Explore Andalusia's Golden Triangle on horseback. From Cordoba to Seville to Granada, you'll get to see the influence of the Moors, who occupied Southern Spain for hundreds of years. The architecture of each city and its artistic heritage will make you travel in time and feel as if you were one of the first explorers in the countryside of this historical region.
The three cities are pretty well interconnected by train. So, if you prefer shorter horse riding trails, you can always book separate holidays in the countryside of each city.
Between the city of Seville and Cordoba, there's a trail that crosses Sierra Morena and Seville's countryside. Around Lagos de Serrano, this route runs next to the rivers Rivera de Huelva and Guadalquivir, which makes you go through spectacular meadows, typical farmhouses, orchard and olive groves.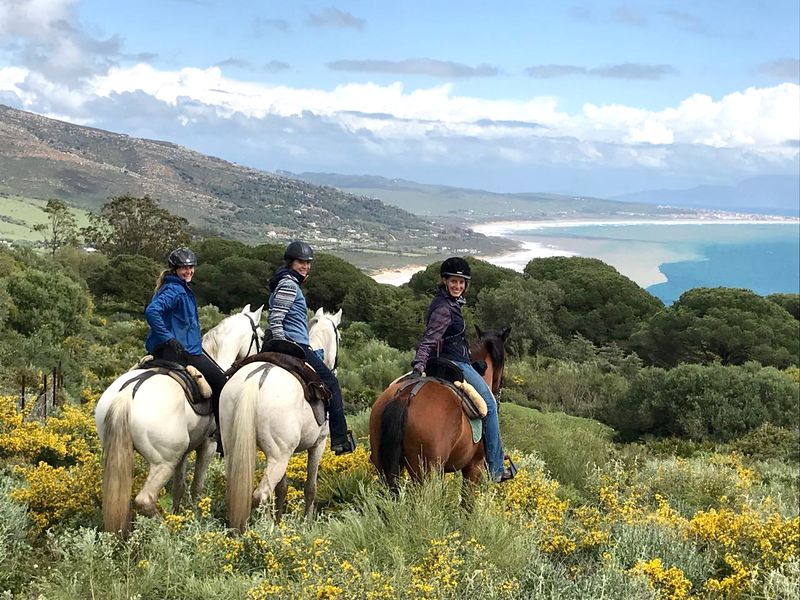 This mountain range is the highest in Spain, which means plenty of amazing views. The most important riding route lies in the municipality of Abla, within the Sierra Nevada National Park and Nature Reserve.
The trail takes you from Venta del Serbal, going to the Fuente de Paredes waterhole and the Haza Ribera viewpoint. Along this picturesque route, you'll be able to see about 2,000 different species of plants, including the rare Snow Star. Along with the colorful flora, you'll also spot some fauna in the form of goats, wildcats and badgers that inhabit the mountains.
Just be aware that there are several ups and downs throughout the trail, so it's recommended to have at least a little experience before riding in the Sierra Nevada.
One of the oldest inhabited cities in Europe, with a history that can be traced back 3,100 years, Cadiz is home to some of the most fascinating archeological sites in Spain. In addition, many of the Pueblos Blancos of Andalusia are located in the Province of Cadiz, quaint towns with whitewashed walls and red tiled roofs.
You can immerse in the captivating scenery of Cadiz on horseback! Here's a couple of trails that will allow you to enjoy the mysticism of the region:
Jerez de la Frontera - El Puerto
Jerez de la Frontera is one of the most representative Spanish cities in terms of equestrian tradition. The aforementioned annual Horse Fair takes place here, a celebration of horses you should definitely experience if you're on an Andalusian horse riding holiday around May.
From Jerez, there's an excellent horse riding route that connects with El Puerto de Santa Maria along the countryside. It crosses a scenic area where you can appreciate the Jerez vineyards (and taste the world-renowned wine if you may), see the marshes formed by the lakes of Juncosa, Salada and Chica, and relax on some of Andalusia's loveliest beaches.
Laguna de Medina – Rajamancera
Running between Medina Lake and Rajamancera, this is another route that goes through Campiña de Jerez, the place where Jerez wine is produced. The trail borders the Nature Reserve of Lake Medina, crossing a few country houses and refreshing streams until it reaches Rajamancera. This is a good option for a short and easy ride near Jerez de la Frontera.
Lying on the Coast of the Sun, Malaga is a great place for a horse riding holiday along the beach. No need to look for long trails, just saddle up and canter on the beaches of the Atlantic Ocean. However, if you want to go on a longer trip, you can ride through the Alcornocales Natural Park where you'll find coastal pine forests across large meadows.
Best time to visit
Most horse riding trails are open year-round, but during the rainy season, there are some that could be closed. This would force you to look for alternative routes, but there's always a way to enjoy Andalusia on horseback during all four seasons.
That said, the best time to visit Andalusia is around spring, from March to June, and later in autumn from September through December. The temperatures are not as high as in the summer months, which means that you won't be exposed to intense sunlight or exhausting heat while riding.
How to get to Andalusia?
Can't wait to go to Andalusia for an incredible horse riding holiday? No matter where you're visiting from, it's quite easy to get to the main cities. Indeed, there are five international airports in Malaga, Seville, Jerez, Almeria and Granada, plus a domestic one in Cordoba.
You can also go by train to most cities in the region, or maybe even get yourself a PRE Andalusian Horse and travel all around Southern Spain on horseback.