Top Affordable Horse Riding Holidays Located All Over the Globe
The go-to resource for planning your horse riding holidays. Find all you need to know about the top destinations and take your riding skills to new heights.
Discover Horse Riding Holidays now
While horse riding is often thought of as an activity that comes with a hefty price tag, this isn't necessarily true.
Horse riding can indeed be pricey but there are plenty of options available across the globe that enable you to have an unforgettable and high-quality horse riding excursion without breaking the bank.
Don't believe us? See for yourself – check out our selection of great budget horse riding holidays in some of the world's most stunning destinations. With a price tag of US$150/day or less including accommodation and meals, you'd better get ready to saddle up!
Note: BookHorseRidingHolidays offers a flexible cancellation policy. Should you not be able to travel as scheduled, we'd be happy to help you alter your booking with the same organizer or a different organizer.
If you're a horse riding enthusiast, you probably already know that Andalusia is one of the world's top horse riding destinations. During this five-day horse riding holiday in Spain, you'll be based at a luxury rural retreat in Casarabonela in the Sierra de las Nieves Natural Park. Enjoy three days of countryside riding on exceptional Spanish horses through stunning mountain landscapes and traditional whitewashed villages, against breathtaking scenery.
Soak in the Spanish sun and crisp fresh air and experience Andalusian village life where things are simple but always enchanting.
Cortijo el Chenil Caballos is run by ex-professional jockey, Darren Biggs, who leads the rides. Each day, you will be treated to about 4 hours of riding. You'll have the opportunity to ride and bond with different types of horse breeds, including the Hispano-Árabe, Pure Spanish Horses, Lusitano, and Andalucian Horses. Rest assured that whichever horse you prefer, they are sure-footed and well-trained.
Stay in a luxury self-catering apartment, with all the facilities you could ask for in a luxury horse riding holiday. The package also includes a ride to a traditional mountain village and a visit to a local bar for tapas.
Price: Starts at €550​ per person (€110/day)
Availability: All year round
Skill level: Intermediate & advanced riders
Been dreaming of a Moroccan adventure? Why not make that dream a reality by going on a horse riding holiday in Morocco?
Ranch de Diabat promises a holiday that allows you to discover the varied landscape of Essaouira – From the vast sand dunes to the pristine and deserted beaches as well as the peaceful fishing villages, you will be able to experience it all!
On this excursion, expect to trot and canter along trails and across oueds (rivers) for a minimum of 5 hours a day. In the evenings, you will be served a traditional Moroccan meal at the bivouac as you bask in the warmth of the campfire before hitting the hay in a Berber tent.
On the final day, you will be able to enjoy the coastline and the city of Souiri where you will have free time to shop or having an indulgent massage before ending the night with a lovely dinner and a relaxing night stay at a hotel in Essaouira.
Price: Starts at US$666 per person (US$111/day)
Availability: All year round (Arrivals on Saturday & departures on Thursdays)
Skill level: Intermediate & advanced riders
Itching to go on a quick horse riding getaway during the middle of the week? No problem. If you currently in Australia, we've got the perfect excursion for you!
Based in Lockyer Valley, Queensland, the friendly and experienced people at Fordsdale Horseback Adventures will welcome you with open arms as they treat you to a horse riding holiday like no other.
Lucky for you, located just a short trip away from Brisbane, Queensland happens to also be one of Australia's top horse riding destinations which means that there are plenty of exciting trails for you to discover during your trip!
There are two packages to choose from – The 1st is geared towards beginner riders and consists of riding lessons in the farm's round yard in the morning and afternoons, followed by short trail rides. The other is ideal for intermediate and advanced riders where you can go on longer trail rides (without riding lessons).
Price: Starts at AUD380 per person (AUD126/day)
Availability: All year round (Arrivals on Monday & departures on Thursday)
Skill level: All levels
Only got a couple of days to spend? Worry not – though a longer duration is ideal for a horse riding holiday, this 2-day excursion in Exmoor, England packs in a whole lot of riding that you'll feel as if it's far longer than it actually is!
When it comes to horse riding, Exmoor not only is one of the top destinations in the UK, it offers some of the best horse riding excursions in the world! Don't miss out on riding through the renowned Exmoor National Park as well as its beautiful villages, woodland, and moorland.
Imagine going on a trail riding experience where you can canter across tracks of the moorland and the vast woodland, ideal for horse riding. If you're looking for a getaway where you can disconnect from the hustle and bustle of city life while you connect with horses and immerse yourself in picturesque nature, this holiday will certainly deliver.
Price: Starts at £280​ per person (£140/day)
Availability: All year round
Skill level: Intermediate & advanced riders
Planning to visit Italy soon? If you are looking to spend some time in Tuscany, you simply can't pass up on this wonderful weeklong horse riding excursion!
Explore Maremma, Tuscany, a region famed for its local breeds – The Maremma horse and the Maremma cross horse. Throughout your vacation, you will be riding experienced and reliable horses that will be your 'partner-in-crime' as you discover the breathtaking Italian countryside.
Beginners need not worry as all levels are welcomed and training will be provided prior to your first trail ride. Whether it is your first time on a horse or your millionth, you will be able to sharpen your horsemanship and (English) riding skills.
Each day, you will spend at least 2 hours off on a riding adventure across the stunning hills and valleys of Tuscany. You will also be treated to daily picnic lunches and exploration of visit-worthy landmarks, such as the Mines of Gerfalco and the Merse River. This will certainly be an Italian getaway that you won't soon forget!
Price: Starts at €566 per person (€71/Day)
Availability: April till early November
Skill level: All levels
Experience the thrill of riding a horse through a tropical jungle with rock formations, pools, and small waterfalls.
Cabalgatas Valle's experienced staff will take you on the most scenic and safe tours in Valle de Bravo. More than 900 hectares of an ecological reserve, private and safe with waterfalls, streams, rivers, mountains, forests, and jungle will be at your disposal.
For those who are new to horse riding, there will be an introductory class.
This camping and horse riding holiday maintains the classic concept of sleeping in a tent, campfires, games, and contests, with the added comfort of bathrooms, showers with hot water, electric power, and much more.
Price: Starts at US$420 per person (US$105/day)
Availability: All year round
Skill level: All levels
Fancy an active weekend with cozy bed-and-breakfast and daily horse riding? If so, this program caters to all levels of riders and offers training in flatwork, showjumping, and cross-country jumping, as well as gentle trail rides. Located just outside Tullamore, County Offaly in the heart of Ireland, the farm has it all!
No matter the weather, you are guaranteed an enjoyable weekend on horseback. The 380-acre farm and woodland has indoor and outdoor arenas, carefully constructed cross-country fences, and a large farmland trekking area.
At Annaharvey Farm, you are in good hands as you will be spoiled with not only memorable rides with superb horses but also quality accommodation, delicious meals, and plenty of Irish charm. By the time your trip ends, you may not want to leave!
Price: Starts at £225 per person (£75/day)
Availability: January till October
Skill level: All levels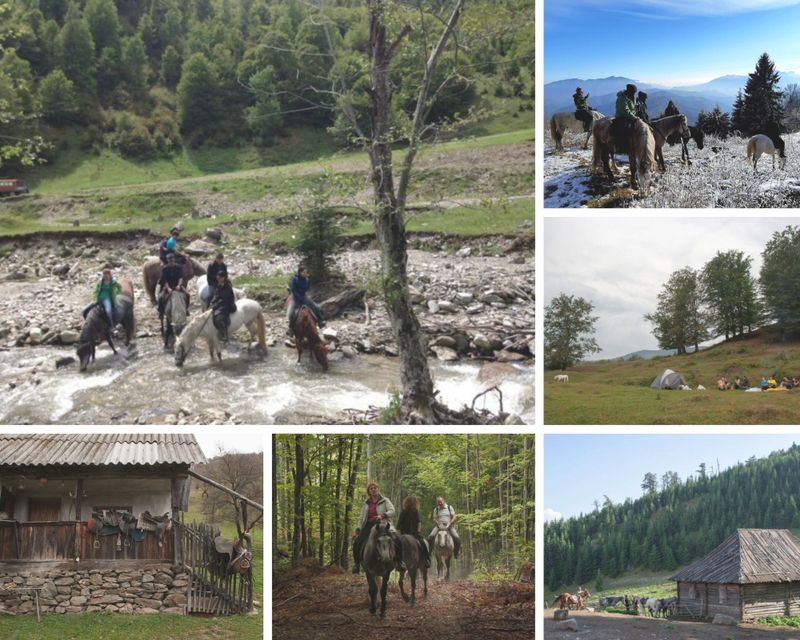 If you've been on the hunt for a horseriding experience in a completely isolated area, this 3 days horseback trip in Lotru Mountains in Romania, might be your best bet! This unforgettable experience will allow you to escape everyday life and recharge your batteries.
The location has a unique charm, in an old, isolated settlmenet, away from the rest of the noisy, stressful world.
The routes will take you through rugged mountains, including the most impressive sight in the area: The Fagaras Mountains. You'll pass by villages that seem forgotten in time, cross thick forests, and be delighted by clearings.
The horseriding holiday includes a ride to Cozia that takes 2-3 days. You'll stay an overnight in Surdoiu and another one at the at the Mocirle sheepfold.
You'll cross woodland and alpine landscape, forest paths, and more, on trails ranging from easiest for the most novice rider to strenuous for both experienced riders and horses.
During this trip, you'll stay at Needea Valcena, a refurbished traditional house in an otherwise empty settlement called Odai. The entire settlement consisted of small cottages built from natural materials (wood, clay, stone), now in various forms of decay. Aside from the accommodation, the meals are included in the price, as well as the transportation from the valley to the venue.
Price: Starts at US$291 per person (US$71/day)
Availability: until December
Skill level: Intermediate & advanced riders
*All prices are valid at the time of publication and are not guaranteed. They are subject to change without notice.
---
Looking for more short horse riding holidays? Be sure to check out our vast options of horse riding weekends!