The Best Places to Go on a Horse Riding Holiday in Spain
The go-to resource for planning your horse riding holidays. Find all you need to know about the top destinations and take your riding skills to new heights.
Discover Horse Riding Holidays now
Home of the famed Andalusian horse, flamenco, tapas, and wine, vast open fields, rugged coastlines, and green mountain pastures, Spain has a long and exemplary history of horsemanship.
With a strikingly varied landscape and numerous natural parks, horse lovers will find an abundance of bridle paths to trot and gallop along pristine beaches, medieval towns, and vineyards, through high mountain passes and into stark wilderness.
If you've been aching to let your inner cowboy shine, a horse riding holiday in Spain will do the trick quite well. But with so much terrain for horseback riding to choose from, deciding where to go can be somewhat of a challenge.
To help you begin your journey, here are the horse riding destinations in Spain that you should add to your itinerary:
Traveling to Spain in 2021
On June 7, Spain reopened for international tourism, allowing fully vaccinated people from all over the world to enter, including EU, UK, and US citizens. Cruise ships are also allowed to enter in Spanish ports.
Fully vaccinated travelers don't need to provide any additional diagnostic test. Unvaccinated travelers must present a negative coronavirus test (PCR, TMA, LAMP, NEAR) or rapid antigen test (RAT). Passengers who have recovered from COVID-19 may present a certificate of recovery. (source)
All visitors must complete an FCS Health Control Form.
Passengers who have a valid EU Digital COVID Certificate and who add it to the Spanish Health Control Form will obtain a QR code FAST CONTROL that will facilitate a speedier health control upon arrival. Children under 12 are exempt from presenting the certificates. However, a health control form must be filled in their name.
Andalusia
Perhaps nowhere else in Spain is horse riding as deeply rooted in the local culture as it is in Andalusia. This is the home of the Pure Spanish Horse, also known as the PRE or Andalusian.
With a history that can be traced back thousands of years, the breed was first recognized in the 15th century, and is believed to be Europe's oldest. Experts state that the Andalusian horse does not owe a single feature to any other breed. The Andalusian was mainly used as a war horse over the centuries, and was the prized breed of the Spanish nobility.
With both mountain and coastal trails, old Roman and Moorish bridle paths, and a varied countryside dotted with vineyards and natural and historical landmarks, Andalusia is a paradise for equine enthusiasts.
If you'd like to embark on a horse riding holiday in Andalusia, here are some destinations you should consider visiting:
Jerez de la Frontera
The birthplace of the Spanish thoroughbred is Jerez de la Frontera, a municipality in Cadiz. The Feria del Caballo (Horse Festival) is held here each week in the first week of May, when it attracts thousands of visitors from all around the world.
This is a great opportunity to witness doma vaquera in its purest form – the traditional Spanish version of Western dressage, performed with more speed and impulsion. You will also see horse parades, carriages, flamenco displays, and taste the great food.
While here, make sure to stop by La Cartuja-Hierro del Bocado Stud Farm, the largest reserve of thoroughbred Spanish Carthusian horses in the world. The Carthusian horse, or the Cartujano, is considered the purest strain of the Andalusian breed.
If you wish to see what these majestic horses are truly capable of, visit the Royal Andalusian School of Equestrian Art in Jerez. Here, you can attend their world-famous show "How Andalusian Horses Dance", an 'equestrian ballet' accompanied by Spanish music.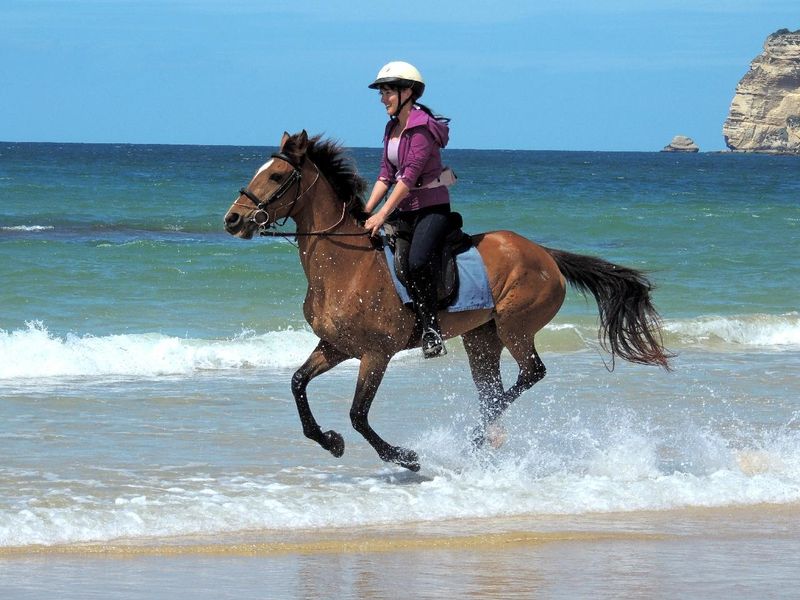 Jerez is an excellent starting point for the many horse riding trails that lead to Andalusia's iconic pueblos blancos (traditional whitewashed villages) and the golden-sand beaches washed by the Atlantic on Costa de la Luz ("Coast of Light"). Enjoy long canters across unspoiled forests or heart-pumping gallops in the La Breña y Marismas del Barbate Natural Park.
Sierra Nevada
The Sierra Nevada mountain range is the highest in mainland Spain, with several peaks over 3,000 meters, out of which Mulhacén is the highest on the Iberian Peninsula, standing 3,581 meters tall.
South of Granada, the Sierra Nevada National Park is Spain's largest, home to a unique flora and fauna, Europe's southernmost glacier area, and some of the most impressive landscapes in Andalusia. Hop on a Spanish horse and ride through unspoiled wilderness, from deep river valleys all the way to high mountain pastures, some of which are so remote they can only be reached on horseback.
Alpujarras
The Alpujarras region in Andalusia encompasses the southern slopes of the Sierra Nevada mountain range and the adjacent valley. It is a culturally and historically rich area, famous for its terraced farmlands and fifty-odd traditional whitewashed villages (pueblos blancos) set on the slopes of the valley, the last stronghold of the Moors (Spanish Muslims).
Follow ancient bridle paths and forestry tracks through terraced valleys, gorges, and olive groves, past whitewashed villages and into the heart of the Sierra Nevada. Historical landmarks are intertwined with natural sites, which make the horse riding trails in the Alpujarras some of the most spectacular in Europe.
Tabernas Desert
East of the Sierra Nevada National Park, in southeast Spain, Tabernas is mainland Europe's only desert. Just north of the city of Almería, which is famous for its Moorish architecture, Desierto de Tabernas is strikingly similar to the USA's southwest, and is a popular filming location. In fact, Sergio Leone filmed his famous Spaghetti Westerns here.
Ride Spanish horses across arid landscapes, canter through the desert's canyons, gallop along the dusty valleys, and follow steep tracks to the high mountain villages in Sierra de los Filabres and Sierra de Alhamilla.
Doñana National Park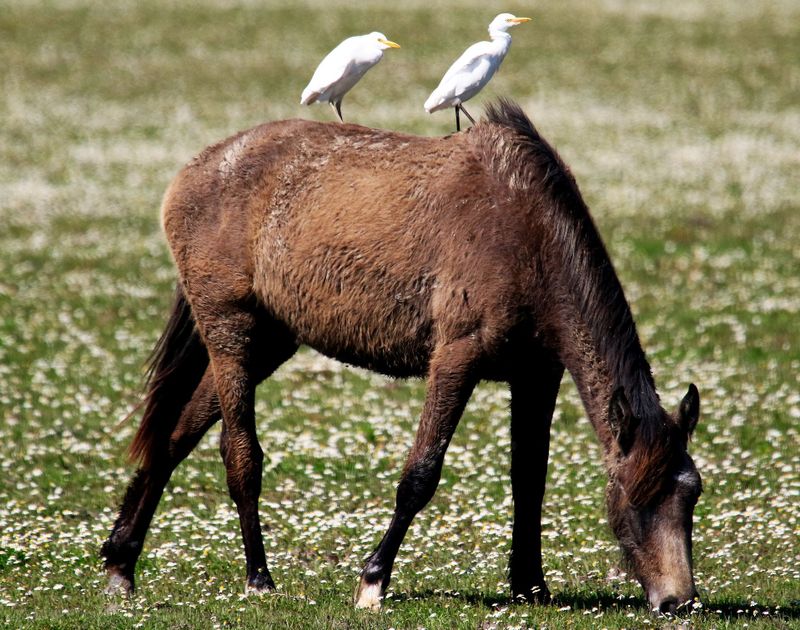 Located in the provinces of Seville and Huelva, Doñana is home to one of the most important ecosystems in Spain – the delta of the Guadalquivir River. Ride a Spanish horse along wetlands, marshes, sand dunes, and virgin beaches, observing the stunning wildlife, birds, and wild horses that call this place home.
Mallorca
The largest of the Balearic Islands, Mallorca is often associated with nightlife and beach holidays. But its varied landscape, culture, and history also make it a coveted destination among adventure travelers, and one of the best ways to explore its rugged beauty is on horseback.
Mallorca offers horse riding trails for all levels. You can gallop along pristine beaches or canter through mountain pastures on Mallorcan horses, a pure breed that has been officially recognized in 1989. The Mallorcan breed is strong and calm, with a black coat and a unique stripe of hair over the last rib bone.
The Serra de Tramuntana mountain range is a UNESCO World Heritage Site that forms the northern backbone of the island. Its unspoiled nature and authentic countryside make it a preferred destination for a horse riding holiday in Mallorca. You will ride along terraced fields, pine and oak forests, citrus, olive, and almond groves, vineyards, water mills, monasteries, and remote villages with dry stone buildings.
Catalonia
In northeast Spain, explore the Catalonian countryside on horseback and combine high-altitude trails in the Pyrenees with coastal riding along the Mediterranean.
North of Barcelona, let your horse take you along Costa Brava, known for its rugged beauty that has inspired artists like Salvador Dali and Pablo Picasso. Pass through medieval fishing villages and open fields as you make your way to the deserted Mediterranean beaches that simply beckon you to canter.
Near Barcelona, travel back in time to the Middle Ages in Valls del Montcau. In the heart of the Sant Llorenç del Munt and L'Obac Natural Park, these valleys are home to white and red pine forests, imposing oak trees, and architectural gems like the famous Talamanca Castle, the medieval village of Mura, and the gothic bridge of Vilomara.
Explore the needle-like rock formations in the Montserrat Natural Park, the mountain that is most representative of Catalonia. Ride through the Garrotxa Volcanic Zone National Park, home to some of the most interesting volcanic landscapes in Europe, and explore the moonscapes in the Garraf Nature Reserve.
In northern Catalonia, venture into the heart of the Pyrenees Mountains and retrace the ancient transhumance trails, which served the ancestral tradition of moving livestock between summer and winter pastures. These rugged trails are more suited for experienced horse riders who don't mind spending long days in the saddle and camping in remote locations.
Camino de Santiago
The famed pilgrimage route across northern Spain draws hundreds of visitors each year, who come to walk the network of 'pilgrim's ways' or only certain sections of them. Others choose to do it on horseback.
While this may seem like cheating to some, Camino de Santiago, also known as the Way of St James, has been associated with horse riding for centuries. In fact, there are various depictions of St James riding a white steed. Plus, it is said that the first pilgrims actually made the voyage on horseback.
Embark on one of Europe's most important cultural and spiritual routes and ride a PRE horse through the Spanish Basque Country, visiting remote medieval villages and important historical landmarks. Retrace the paths of the knights who protected the pilgrims as you pass by woodlands, rolling hills, and charming little villages until finally arriving at Santiago de Compostela.
Extremadura
Extremadura is an autonomous community and a remote area in western Spain that not many visit. For those looking for an off-the-beaten-path horse riding holiday, this can only be good news. These are some of Spain's most inaccessible landscapes, boasting numerous natural reserves and historical sites, some of which are UNESCO protected.
Embark on a journey back in time and ride past ancient Celtic and Visigoth settlements, over Roman bridges and through mountain villages.
A popular destination for horse riding in Extremadura is the area's characteristic dehesa – large expanses of wooded pastures that invite riders on long walks or trots as they observe the stunning wildlife.
The Monfragüe National Park and Cornalvo Natural Park are idyllic places to enjoy safe trots and canters on Spanish horses, as you travel on wide grassy pathways and ancient transhumance routes. In the Badajoz province, ride through La Serena steppes, home to the best-conserved dry Mediterranean grasslands and a top destination for bird-watching.
Sierra de Gredos
West of Madrid, in the Castile and León region, the remote northern and southern valleys of the Gredos Mountains offer excellent terrain for horse riding. Sierra de Gredos is a wonderful destination to experience rural Spain. Travel back in time to the Kingdom of Castile, when the horse was the main mode of transport, by following the Roman roads on the Tormes, Tiétar, Corneja, and Alberche river valleys.
On a horse riding tour in Sierra de Gredos, you'll gallop across open fields, alpine meadows, forests of oak, pine, birch, and chestnut, past glaciers, lagoons, and medieval villages with castles and dry stone houses.
The Canary Islands
Horse riding may not be the first thing that comes to mind when thinking about the Canary Islands. Basking in the sun on white and black sand beaches, surfing, and hiking are far more popular. But there's really no better way to explore these islands' natural curiosities than on horseback.
The Canary Islands are a great destination for a family horse riding vacation. The trails are gentle, and many companies offer pony trekking as well. The Canary Islands horses are usually a mix of Arab and Spanish breeds, and are strong and reliable.
On Tenerife Island, Teide National Park is home to Spain's tallest peak – Mount Teide (3,718m). This is the most visited national park in Europe, boasting an otherworldly landscape and intriguing endemic flora and fauna.
In southwestern Lanzarote, the Timanfaya National Park is a UNESCO-protected biosphere reserve and home to a spectacular volcanic landscape that covers a quarter of the island.
Cover more ground and experience these moonscapes up-close by embarking on the many winding horse riding trails in the Canary Islands.
Menorca
Another one of the Balearic Islands, Menorca is considered more authentic than Mallorca, as it is home to a wilder landscape that offers numerous horse riding trails. However, the most outstanding one is Camí de Cavalls, a 186-kilometer historical route that encircles the island.
Ancient bridle paths will take you by the Sanisera archaeological site, the Cavalry Lighthouse, set on a cliff that is over 80 meters tall, and S'Albufera des Grau Natural Park, all of which offer stunning panoramic views of the turquoise Mediterranean and the virgin beaches below.
---
Let your Spanish horse lead the way as you discover some of Europe's most fascinating landscapes on a horse riding holiday for intermediate riders in Spain!