Your Guide to Horse Riding in Mongolia
The go-to resource for planning your horse riding holidays. Find all you need to know about the top destinations and take your riding skills to new heights.
Discover Horse Riding Holidays now
As the country with just as many horses as citizens, Mongolia is a place with a strong equestrian tradition. For Mongolians riding a horse is as popular as riding a bike in the Western world. Mongolian children learn to ride a horse as early as three years old, often becoming jockeys at the age of seven to eight years.
Wondering how horse riding has become a part of Mongolia's DNA? Historically, transportation infrastructure has not been developed here and due to the complex landscape consisting of steppe, taiga, desert and mountains, horses remain an important means of travel for locals.
Where the rugged roads end and the terrain becomes too rough for any vehicle, only Mongolian horses are able to take one to the farthest ends of this magnificent land.
And with 605,000 square miles (1,566,000 square kilometers), there's a lot to explore in the country that has even been called "Texas of Asia" some time ago. With no fences and "private territory" signs, it's possible to ride for weeks in any direction - just you, your horse and nature.
Horse riding is an absolute must if you want to discover the true spirit of Mongolia. Sitting in the saddle and gazing out between two long pricked ears is the most natural way to appreciate the beauty of this magnificent land.
In this article, we're sharing an overview of the most popular horse riding regions in Mongolia along with useful tips for a horse riding adventure in this country.
As Mongolia's main air travel hub, chances are you'll be arriving in the capital Ulaanbaatar located in Central Mongolia. The city is the largest in the country hosting half of the total population (1.5 million). The other half are spread across the land and live a nomadic lifestyle.
With the most developed infrastructure and a lot of interesting sites around, Ulaanbaatar is a great base to start your horse trekking adventure in Mongolian heartland.
Central Mongolia has a varied landscape, ranging from vast grasslands and rolling hills to verdant valleys scattered between forested mountains. Swaths of land stretching to the horizon are sprinkled with numerous tiny gers (traditional yurts) and small herds of yaks, goats or horses grazing on the open meadows.
Nature here is stunning and feels like untouched by humans. Often, you will feel like you are the first person who has ever visited this area.
Gorkhi-Terelj National Park is considered one of the most scenic areas in Mongolia. Located about 43 miles (70 kilometers) northeast of Ulaanbaatar, it's also one of the most accessible places to admire the epic Mongolian landscapes. The park is famous for its picturesque alpine scenery, interesting rock formations, rivers, glacial lakes and hot springs.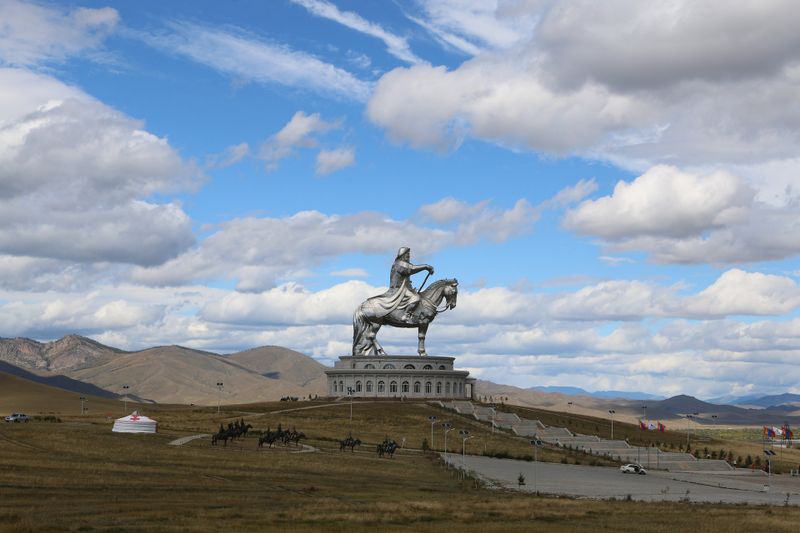 The southern part of the national park offers various amenities including restaurants, gift shops and touristic ger camps.
Here, you can admire the 130 feet tall (40 meters) Genghis Khan Equestrian Statue made of stainless steel. Built on the bank of Tuul River, this is the place where, according to the legend, the great leader found his golden whip. You can climb the stairs to reach the head of the statue's horse to admire the stunning panoramic views.
A short ride north of the Terelj River, you'll discover the hidden natural and cultural jewels of the park.
The first stop on the way to the park's protected area is the 76 feet high (24 meters) Turtle Rock, a magnificent formation carved by the forces of nature. Located in a meadow, it offers a spectacular view on the surrounding rocky hills, half-covered with pine forests. Another interesting nearby rock formation is known as Praying Lama Rock, which resembles an old man reading a book.
Riding further north, you can visit the Aryabal Meditation Temple located on the steep hill. It's a great occasion to get off the saddle and do some hiking while climbing the 108 steps of the stairs that lead to the temple shaped like an elephant's head. This Tibetan-style construction houses amazing colorful Buddhist decorations depicting heaven and hell.
It is believed that climbing the stairs all the way to the top offers a release from one's sins and suffering. Whether you choose to believe it or not, you'll definitely enjoy the stunning views on the entire national park.
If you decide to extend your horse riding trip in Gorkhi-Trejl National Park for a couple of extra days, you can reach Khagiin Khar Nuur Lake and enjoy the beautiful sunset in the middle of the wilderness or relax in the remote Yestii Hot Water Springs with water temperatures reaching 95° F (35°C).
Another must-visit area located close to Ulaanbataar is Khustai National Park. This park is a recognized member of the UNESCO World Network of Biosphere Reserves and a specially protected area declared by the Mongolian Government.
It was created with the sole purpose of building-up a sustainable wild population of the Tahki (Przewalski's horse) – the last truly wild horse breed left on the planet. Once roaming free, in the 1960s these beautiful creatures became nearly extinct due to the expansion of agricultural land, hunting and harsh winters. Thanks to the careful conservation efforts, there are over 350 Przewalski's horses living wild in Mongolia in 2020.
The Tahki are best to observe around dawn or dusk when they gather around the Tuul River to drink fresh water.
Photo credit: He-ba-mue via commons.wikimedia.org
Another important cultural and historical site, Orkhon Valley lays south-west from Ulaanbaatar. The valley has been an important center for many ancient civilizations, and it's also considered the cradle of nomadic Mongolia.
Stretching for 50 miles (80 kilometers) along the banks of the Orkhon River, it has been classified as a UNESCO World Heritage Site for representing the evolution of nomadic pastoral traditions. The area consists of numerous archaeological remains including the ruins of Kharkhorum, the 13th-century capital of the Mongol Empire and the largest and oldest Mongol Buddhist monastery at Erdene Zuu.
While riding through the valley, you'll enjoy stunning views on the vast areas covered with grassy and rocky pastures surrounded by the Khangai Mountains folding into one another on the horizon. The green swaths of land are cut by the winding Orkhon River forming canyons and cliffs dotted with pine trees. Follow Genghis Khan horse's hoof steps and explore the steppes and historical sites that were once an important stop on the Silk Road.
A must-see spot in the area is the magical Orkhon Falls, the largest waterfall in the country measuring 80-feet-high (25 meters) and 16-feet-wide (5 meters). It is formed where the Ulaan Tsutgalaan River falls into the Orkhon River and is best to see in summer when it's in full flow.
On your way from Orkhon Valley, the next amazing site is the Naimun Nuur National Park also known as the Eight Lakes area. The path leading there takes around 22 miles (35 kilometers).
The landscapes in the valley are typical Mongolian high mountains and alpine meadows covered with green Siberian pines and larches. Thousands of years ago, volcanic eruptions and earthquakes shaped this area creating a space for lakes, waterfalls and streams, leaving the mountain tops arid.
Located 7874 feet (2400 meters) above sea level, the Eight Lakes are spread from 1.8 to 3 miles (3 to 5 kilometers) from each other and are all connected by groundwater. The glistening lakes nestled between lush green mountain peaks create an otherworldly vista, which is best observed from an elevated position in the saddle.
Thanks to the plentiful vegetation and access to freshwater, many nomadic families come here in the summertime. They welcome every traveler with open arms and hearts, sharing their food, shelters and horses.
Riding on these wild and rough trails allows you to test your skills across many different terrains. On the way to the lakes, you can visit the Tövkhön, a small monastery perched high on a cliff, a popular pilgrimage place for the locals.
Northern Mongolia
The northwestern part of the country is where the landscape changes significantly. The rolling steppes, so common to the majority of the land, give way to the Siberian taiga, glacial formations and snow-capped mountains where deer, wolves and snow leopards roam free.
While the central part of Mongolia hosts more accessible sites and trails, the north will surprise you with natural jewels hidden in the wilderness. One of them is Khovsgul Lake, a pristine alpine lake that is more than two million years old and otherwise called "the blue pearl of Mongolia" or "Mother Ocean".
It belongs to the same rift valley system as the nearby Baikal Lake, the deepest lake in the world. The water here has a beautiful shade of crystal blue and is so pure that it can be drunk straight from the lake. Riding around the shoreline on horseback is the best way to appreciate this beauty.
The lake is surrounded by flower-filled meadows and green undulating alpine hills dotted with larches. In the background, you'll see the long chains of the folded Horidal Saridag Mountains rising to the horizon and reflecting in the crystal-clear water.
If you are a seasoned rider, you can embark on a demanding trek crossing the mountains to the west in order to reach the Darkhad Depression – home of the nomadic Tsaatan people who live off reindeer herding. You can enjoy a truly unique experience by staying with them in a teepee (a traditional tent), drinking reindeer milk tea and herding a group of over 100 reindeer on horseback.
When is the best time to embark on a horse riding holiday in Mongolia?
Thanks to its elevation, there are typically around 250 sunny days per year in Mongolia. That's why the country is also known as "The Land of Blue Sky". However, the temperatures here are not always high. The extreme continental climate results in hot but short summers and long, dry and very cold winters. Daily temperature fluctuations can be high too. A warm day can quickly turn into a very cold night with -4 °F (-20 °C).
Interesting fact: Ulaanbaatar is the coldest capital city in the world. The average annual temperature is 29.7°F (-1.3°C).
The best time to visit Mongolia for a horse trekking adventure is from June to August when the temperatures average around 59 °F (15 °C) in the central part and 68 °F (20 °C) in the south. The vegetation during this time is green, and the meadows are covered with colorful wildflowers.
Tip: In July, Mongolians celebrate one of the biggest and oldest festivals – Naadam. During these three days, spectacular games of horse racing, archery and wrestling are held throughout the country. The biggest celebrations happen in the capital, but for a more authentic and less crowded experience, you can visit a smaller northern town of Khatgal.
It is possible to go horse riding in Mongolia in March and April or in September and October. However, you'll have to bring additional good quality equipment and clothes to stay warm and comfortable.
Spring and fall are also less popular touristic seasons, although in Mongolia you don't necessarily have to be worried about the crowds regardless of the time of year. That said, March and April are live stocking months, which means that after a long, harsh winter Mongolian horses might be not in their best shape.
Unless you can handle very frigid weather conditions, it's best not to travel during winter months (November-February). However, the winter Mongolian sceneries can be pretty amazing too. For example, completely frozen Lake Khovsgul with 60 inches (150 centimeters) thick ice sheet or the steppes covered with glittering snow, stirred into white clouds by horse's hoofs.
Before You Go Horse Riding in Mongolia
If you are visiting Mongolia for a short period (two-three days), the most recommended horse riding trip is an overnight tour from Ulaanbaatar to Gorkhi-Terelj National Park or Hustai National Park. There, you can get a glimpse of the epic unsullied landscapes of Mongolia.
In case of a longer stay, you can embark on a multiday ride with stops in several national park sections or exploring different distant regions of Mongolia. Depending on the holiday you pick, your itinerary can feature as little or as much riding as you'd like. The typical distances are between 3 and 15 miles (5 and 25 kilometers) per day, riding for 3 to 7 hours or even a whole day.
Do keep in mind that the longer horse riding trips in Mongolia require good horse handling in rough terrain (steep hills, crossing deep rivers, muddy terrain, etc.) and sleepovers in camping sites with native nomadic tribes. The camps are very authentic and traditional, and the conditions can be rigid with no electricity, running water or phone and internet connection.
Mongolian horses
Most visitors in Mongolia have little to no experience riding horses, so it's a welcoming place for beginners.
You may find it easier to ride Mongolian horses because once you approach them, the first thing you will notice is that they are quite small and can even appear as ponies by European standards. That said, they're very able-bodied as they can carry heavy loads for long distances and have big energy reserves for hard work.
Mongolian horses are semi-wild, meaning they are free to roam and know how to survive in the wild. They have sharp instincts to defend themselves from predators but at the same time, they're docile, responsive and sure-footed.
Tip: Please keep in mind that Mongolian horses are much easier to spook than others you might have ridden before. It's best to avoid making loud noises, unexpected movements and wearing colorful outfits with flapping elements near the horses.
---
Are you ready to explore Mongolia's vast landscapes dotted with endless green pastures, wonderful gorges and sparkling blue lakes? Go on a horseback riding and camping trip in Mongolia to discover the true beauty of this country.