Portugal's Must Experience Horse Riding Destinations
The go-to resource for planning your horse riding holidays. Find all you need to know about the top destinations and take your riding skills to new heights.
Discover Horse Riding Holidays now
One of the oldest countries in Europe, Portugal is a nation rich in history, excellent cuisine, and stunning beaches. As it is home to some of the biggest (and best) waves in the world, surfing enthusiasts may already be quite familiar with this beautiful country.
Football fans, on the other hand, may fondly refer it as the birthplace of the famed Cristiano Ronaldo. Nevertheless, surfing and football aren't the only sports that Lusitania (Portugal's nickname) is renowned for as it is also happens to be a favorite hub for horse riding lovers around the globe!
Blessed with all year round pleasant weather and a variety of terrains, it is indeed an ideal place to go on a horse riding holiday.
In the center of Portugal, you'll find lush forests, pristine rivers, and beautiful valleys while in the south, you'll be treated to its vast coastline of renowned beaches, in addition to abundance of picturesque cliffs and coves. The remaining parts of the country is certainly not to be dismissed, offering its own unique characteristics such as traditional villages, historical treasures, and natural wonders.
While on a horse riding vacation in Portugal, you'll also have the opportunity to ride its most demanded horse breed, the majestic Lusitano. A mix of the Arab & the English Thoroughbred, it is gentle and is an ideal breed for classical dressage.
Thanks to its graceful stature and movements, Lusitano horses often can be found competing in various International equestrian competitions.
Wondering which destinations you ought to consider for an exciting and memorable horse riding excursion in Portugal? You're in luck, find our top picks below: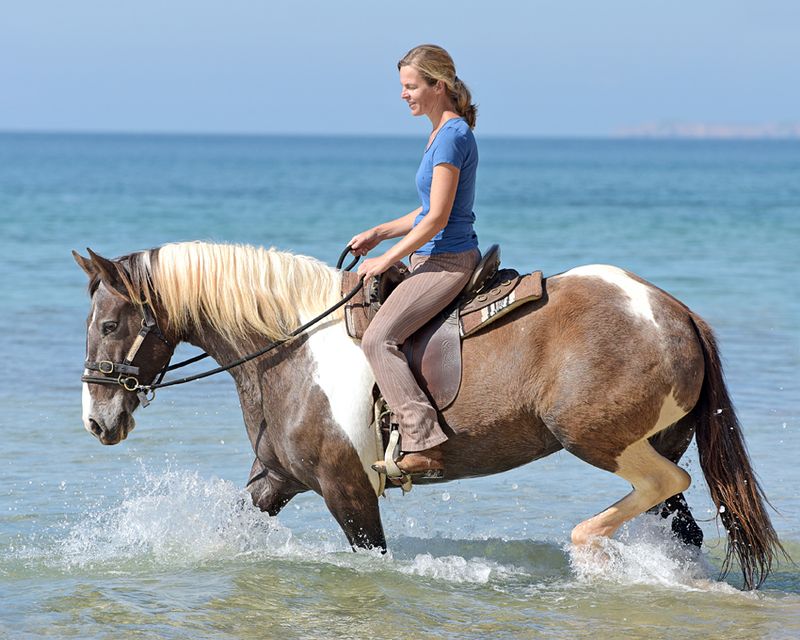 Portugal has a rich equestrian tradition and many of its top equestrian centres can be found in the Algarve. Are you an avid rider? You shouldn't miss out on joining a top level classical dressage program. You'll have the time of your life honing in your horsemanship as you ride well-ride athletic and agile Lusitano horses.
Not experienced in horse riding? Not to worry, there are also plenty of options that are beginner friendly offered. If you're planning take the young ones along, they can also partake in the fun as pony rides are usually are offered too!
With great weather all year round, here, you can have an enjoyable riding holiday at any time of the year. While most prefer to ride during the spring when the flowers are in full bloom or during the summer when the temperatures are at its peak, note that even in the winter, the sun is always shining. As nights are quite warm, you can enjoy watching the sunset on horseback and ride under the full moon.
While the Algarve may be most well known for its beaches, in addition to galloping across the coastlines, you also have the opportunity to ride along vast landscapes brimming with colorful flowers, gorgeous natural parks, and breathtaking mountains.
If you'd like to experience the best horse riding trails that the Algarve has to offer, Albufeira, Vilamoura, and Silves are the destinations you ought to consider.
If you're traveling from overseas, you'll likely be flying into Portugal's capital, Lisbon. Should you want to minimize your traveling time, there are actually ample choices of horse stables and riding centres located only 30 mins to 1 hour drive.
Though just only a short drive, you'll be indulged with an ambiance far from what you'll find in the city. Here, you'll likely to stay in a traditional, homely Portugese rural house where you'll feel as if you're instantly a part of the local community.
As you ride your horses with vineyards, scenic landscapes, and lovely mountain views as your backdrop, you'll feel your stress melts away. While the routes may vary, you will likely to explore areas surrounded by eucalyptus, pine, and cork trees, gallop through corn fields & olive groves as well as along rivers such as the Tejo and Zezere rivers. Some longer term excursions may also take you to discover historic villages such Constância.
With everything from dressage lessons, show jumping or, hacking cross country on offer, if you're looking for a quick yet relaxing getaway where you can hit 'pause' on the hustle and bustle of life, a horse riding holiday in Lisbon District may just be your best bet!
Looking to combine horse riding with other activities such as surfing, yoga, and/or meditation? A horse riding holiday in Faro district may be what you've been searching for!
Many of the horse riding excursions offered here are easy going but on the adventurous side and most are located in Aljezur, a charming town located the border between the Algarve and the Alentejo in the south west of Portugal. While it's rather small, it's the perfect blend of a beach town & Portugal's serene countryside that offers superb trails that span across dunes, rivers and along cliff tops.
If you're looking for a challenging yet scenic route, be sure to head over the beautiful Costa Vicentina. Located not far from the unspoilt Monte Clerigo and Arrifana beaches, you can also enjoy a relaxing ride exploring the Costa Vincentina Natural Park that offers spectacular views as well as flora & fauna you may be able to spot elsewhere in the world.
Need some time off the saddle? In addition the activities that we've covered above, if you happen to be an outdoors enthusiasts, you'll be delighted to hear that Aljezur is also a great place to hike, jog, and go fishing.
Should you prefer to do some sightseeing, you can spend time hours hitting the old town that is lined with whitewashed houses and cobbled streets as well as the ruins of a Moorish castle that dates back to 10th century nestled on a hill. The view from up above is simply one not to be missed!
Home to some of the best surf spots in the world, Peniche and Nazaré, the Centro region is frequently visited by surfers from all over the globe who are looking to ride the perfect waves.
That said, its horse riding scene is just as bustling with many of the country's top riding and equestrian centers residing here. It comes to no surprise that local and foreigner riders alike flock to Centro to improve their skills and have a leisurely break altogether.
Along with great trails, you will be able to immerse yourself in the local culture, history, as well as sample its delicious cuisine. As it is situated in the center of Portugal, you can find an abundance of mountains, beaches, and lush forests here. So, if you're on the hunt for a horse riding excursion that will allow you to have a wholesome holiday at the same time, Centro is where you need to be!
An experienced rider? Trekking the highest peak in the country's mainland, Serra de Estrela on horseback is certainly a favorite. During the ride, you'll be treated to endless views of breathtaking landscapes and glacial lagoons.
Nature lovers of all riding levels may also like to explore the Natural Park of Aire or the Naturtejo Geopark, a protected and preseved area where you're bound to come across Portugals endemic species. Here, you can also take a break from the saddle and go rock climbing, rafting, or hiking.
All throughout the region, you can also find its history and heritage proudly displayed. If you're a true history buff, however, be sure to set aside time to check out Monasteries of Alcobaça and Batalha, the Convent of Christ in Tomar and Coimbra University, all of which are listed as UNESCO world heritage sites.
Last but certainly not the least, we have Alentejo rounding up our awesome list. Located close to the Spanish border, it offers some of the best riding in the country and you'll find plenty of coastal and inland trails as well as top class dressage tuitions in this region.
Alentejo is particularly important for the breeding of Lusitano horses and it is home to the famous Alter-Real Stud. One of the world's oldest studs in the world, it is a 800ha property with beautiful stables and prairies that is definitely worth at least a quick visit!
While you can ride anytime of the year, if possible, plan your trip in the spring time if you'd like to be treated with gorgeous flowers and various flora in bloom, covering the hillsides as far as the eye can see.
During your ride, you will likely to pass through centuries old cork trees, vast olive groves, as well as eucalyptus and pine forests. You'll feel all your senses awaken with the sights, sounds, and scents of nature. While on the opposite end, you can explore the region's beaches, sand dunes, and lagoons.
To fully experience what Alentejo has to offer, it is recommended to stay at least a week so you can spend ample time to ride in the hills and canter along the coast. While you're here, be sure to check out some of the region's most popular trails: The Dolphin Trail & Bottlenose Trail (circular trails) and the Coastal trail (linear trail) – all of which offer different types of terrains perfect to be tackled while riding a Lusitano horse.
---
Can only get away for a weekend? No problem. Book yourself a spot on a wonderful weekend horse riding holiday in Portugal!