Top 5 Destinations for a Ranch Vacation in the USA
The go-to resource for planning your horse riding holidays. Find all you need to know about the top destinations and take your riding skills to new heights.
Discover Horse Riding Holidays now
The United States is the ultimate destination for a traditional ranch vacation. If you're looking to experience what it's like to be a cowboy in the Wild West, there are various destinations where you can dig into the dirt on a working ranch, or experience the authentic ranch lifestyle.
Not only do ranch vacations allow you to play cowboy for some time, but they also offer adventurous side activities for a horse riding vacation. Learn how to rope while riding a horse, participate in real-life cattle drives, pitch in at the stables, and head out for scenic horse rides through nature. If you are the adventure-seeking type, you can also combine your excursion with ziplining, cycling, wildlife tours, river rafting, or hiking.
In short, you'll be able to become a part of the daily ranch routine and explore the Western flare. So without further ado, here are the five best destinations for a ranch vacation in the USA.
Wyoming is a state of many firsts: from the first to grant women the right to vote to the home of the first established national park in the USA, Yellowstone National Park. It is also a state where you can still experience the authentic cowboy lifestyle. The deep-rooted Western hospitality and the untamed nature make Wyoming an ideal destination for an adventurous ranch vacation.
The Equality State has 45,000 square miles of public lands with wide-open spaces and grant landscapes, making it an excellent destination to explore with horseback riding trips. With plenty of horse-friendly campgrounds available, a pack trip is also a perfect way to discover Wyoming.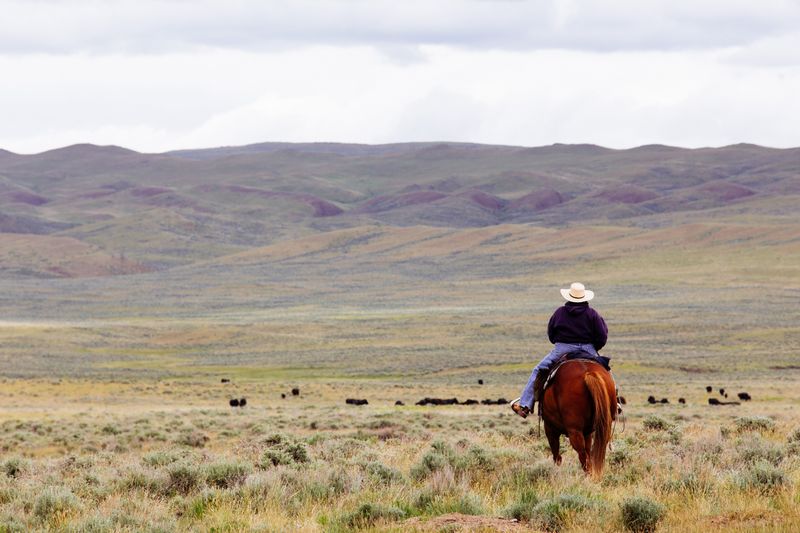 Blessed with vast open spaces, stunning scenery, and various national parks such as Yellowstone National Park and the Rocky Mountains, a ranch vacation in Montana is perfect for those who are looking for the opportunity to drive cattle from one part of the state to another.
Many of the dude ranches offer long scenic rides through the Montana wilderness. Through these horse riding excursions, you'll get to witness the spouting geysers, mountainous lava flows, or the pristine rivers. Whether you're looking to get an experience of working on a ranch or just want to be around horses all day, Montana dude ranch vacations offer it all!
A ranch vacation in Colorado is great for those who are looking for a winter retreat with a beautiful backdrop of the snow-capped Rocky Mountains. Riding horses in winter is a totally different experience than in summer, as the horse trails are covered with a blanket of fresh snow and horses wear a warm, thick winter coat. It is an experience not to be missed!
That said, in Spring (May and June), Colorado is a beautiful destination for dude ranch vacations, when the ranches need to be prepared for Summer and the work steps a gear. Regardless of the season, throughout the year, professional cowboy instructors look forward to welcoming you for a true cowboy experience!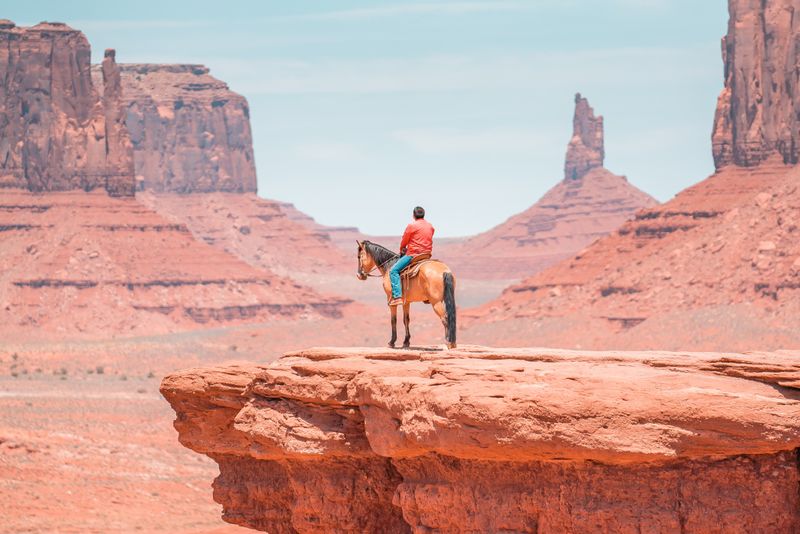 Always dreamed of exploring the Grand Canyon on horseback? Saddle your horses for an authentic ranch vacation in Arizona. With beautiful riding trails guiding you along Joshua Trees and the historic Mormon Trail, you'll be able to witness the buffalo in its natural habitat, a true Western experience.
Arizona is an especially ideal destination for the winter months, as temperatures are better suited for longer trails.
Although California might not come first to mind when thinking of a ranch vacation, the inland mountain ranges and horse trails are the ideal settings for equestrian boarding. With wide-open terrains, forests filled with creeks and lakes, and stunning views of the mountains, a ranch vacation in California makes a wonderful break for those who are looking for a short city getaway.
---
Hop in the saddle and explore the country's impressive natural treasures on a horse riding holiday in the USA.