Different Types of Horse Riding Holidays Explained
The go-to resource for planning your horse riding holidays. Find all you need to know about the top destinations and take your riding skills to new heights.
Discover Horse Riding Holidays now
They say that the best view of the world can be seen from between the ears of a horse. After all, the thrill of discovering new places at a slow-pace, while connecting with your horse and surroundings, is beyond comparison.
Whether you're looking to do some recreational riding and unwind amidst nature or to take your skills to new heights with equestrian dressage, you'll find many different types of horse riding holidays available all around the world.
From short getaways, such as a horse riding weekend, to weeklong expeditions, beginner to advanced, beaches to mountains, and from budget-friendly to luxury, there's an unforgettable experience for every taste.
With so many options available, you may be wondering which one to choose. This is why we're breaking down the different types of horse riding holidays and what you can expect from each:
Image credit: Irish Horse Riding
If you're looking for a relaxing and immersive experience that also offers great hacking, then a trail riding holiday might be just what you need!
Trail riding is done on tracks that are not regularly used by motorized vehicles, such as bridle paths, outdoor trails, forest tracks, or country roads. It's a great opportunity to build confidence in the saddle, enhance your skills, get close to nature, and relax as you disconnect from daily life.
There are many different types of trail riding holidays available worldwide, catering to all skill levels and budgets. The rides can vary in length, from a couple of hours to multi-day trips. Some are suitable for beginners with no prior experience, while others involve long hours in the saddle. You may get to ride on a specific type of terrain, such as rolling countryside, mountains, beach, or experience a bit of everything.
A trail riding holiday is a wonderful way to get the feel of a new country or to explore your own surroundings. Winding trails and bridleways will take you through rolling hills and mountains, past medieval castles and monasteries, along shimmering lakes and pristine beaches. You'll reach isolated communities, mingle with the locals, get to know their customs and traditions, as well as taste authentic foods.
Depending on how immersive or laid-back you'd like your vacation to be, you can choose between point to point or center-based trail riding holidays. Let's take a closer look at each:
Image credit: Chilcotin Holidays
Follow in the footsteps of pioneers and early settlers on a point to point trail, also known as post to post. These exciting expeditions on horseback begin in point A and end in point B, and you'll be spending each night in a different location along the way.
These can be truly epic adventures, such as crossing the Andes from Chile to Argentina, horse trekking through Mongolia for an entire week, riding through the Sahara Desert, climbing the High Atlas Mountains in Morocco, or exploring the many national parks in Europe on horseback.
You'll travel at a slow pace, with pack animals carrying your belongings. You'll spend long hours in the saddle, which is a great opportunity to develop more riding confidence, technique, and improve your natural horsemanship. While there are point to point trails suitable for all skill levels, most of them are best suited for intermediate and advanced riders.
The accommodation will change and, depending on what's available, you may spend the night in comfortable guesthouses or hotels, mountain huts, family houses, or campsites.
If you venture off the beaten path, you might have to camp under the stars with the horses at your side. Depending on the riding and camping holiday you choose, you might be expected to help set up the camp and care for the horses, which only adds to the thrill of the adventure.
» Check out the world's best destinations for a horse riding and camping trip.
Center-based trail riding holidays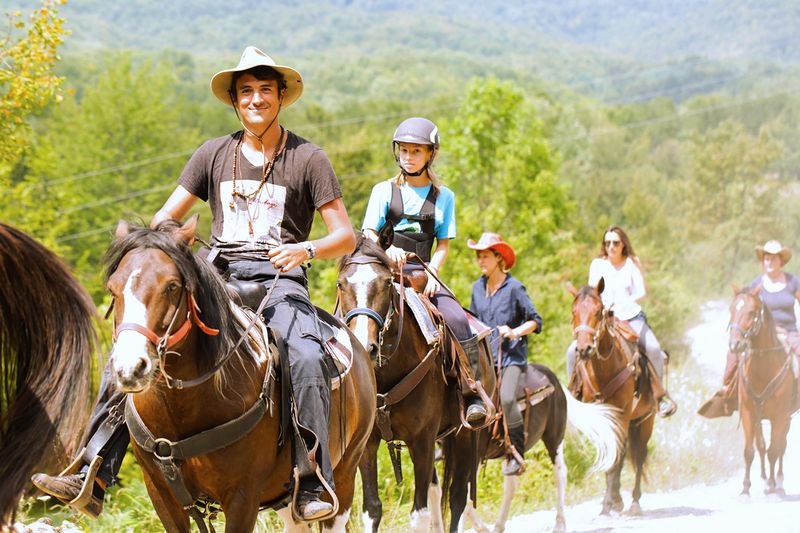 Image credit: Linden Tree Retreat Ranch
These holidays are generally considered more comfortable and relaxing because you don't have to pack each day and you have more freedom when it comes to the schedule. You'll enjoy different trail rides each day, typically shorter, and return to the same accommodation each night.
Center-based trail riding holidays are a great choice for families, couples, or groups in which there may be different levels of riders, even non-riders. Also, if you're a beginner or you're concerned about your riding ability, this holiday might be more suitable for you.
Guest ranches and equestrian centers typically offer a range of horse riding opportunities for all skill levels. You can go on different half-day or day trails each day, and you can even skip certain days. For more experienced riders, the center can organize multi-day trails too.
You may also get the chance to ride on different terrains. Depending on the location, some trail riding holidays can also offer beach riding, which is becoming particularly popular option. After all, who doesn't love the combination of sun, sea, sand, and horses?
You can expect lots of galloping and cantering, which is why many beach riding holidays are more geared towards intermediate and advanced riders. That said, beginner riders do have the option to go out for walks along the beach.
» Dreaming of brisk canters along sandy shores? Take a look at the world's best destinations for horse riding along the beach.
Also known as dude ranches, these are the original western vacations. It all started in the 19th century when ranches in the West and Midwest began to welcome city dwellers from the East Coast looking to escape urban life. Back then, "dude" was used by cowboys when referring to urban dwellers.
Today, ranch vacations are no longer confined to the USA. In fact, you can find one closer to your home than you might think. They are spread across Latin America, Canada, Africa, as well as at the many traditional farmsteads in Europe.
Ranch vacations are a center-based hacking holiday. But what makes them different from others is that they give you the chance to become a cowboy, even if only for a while.
From small and intimate to resort-like amenities, there's a ranch vacation for every budget. These holidays are usually all-inclusive – accommodation, full-board, trail riding, fishing, hiking, and the opportunity to participate in the daily activities at the ranch are included.
Most ranches offer trails for all skill levels, which makes them a great option if you're a beginner, traveling with your family, as a couple, or as a group in which there are riders of different levels. Some ranches also offer the option of going on a multi-day pack trip, beginning and ending the ride at the ranch.
A working ranch vacation is a fully-immersive experience. You'll get to be a cowboy during your stay and participate in cattle drives and other specific activities at the farm. Do keep in mind that these activities can differ depending on location and time of year.
If you've always been fascinated with how professional riders and their horses can perform flawless maneuvers in complete harmony, then why not try it yourself?
Perhaps you're already familiar with dressage and have your own horse but wish to take your training to a new level by riding different horses. Maybe you're looking to train in a different country, amidst beautiful surroundings. Or you're simply looking to develop your riding sense and learn new movements. A dressage holiday will offer all of these and more.
Also known as instructional holidays, they cater to all levels and teach various riding styles. While most dressage programs focus on classical riding, you can also learn show jumping, western riding, cross-country, endurance riding, or even polo.
Classical dressage holidays are usually arena based. Many riding centers have both indoor and outdoor arenas, making it possible to participate even when the weather isn't ideal. You'll be allocated a dressage horse suitable for your riding experience and size. Depending on your skills, the lessons will be either at a basic level or at a more advanced level of dressage.
Throughout your stay, you'll improve your flatwork and learn the classical dressage movements, such as the piaffe, pirouette, and passage. More advanced riders can tackle high-level classical dressage maneuvers, such as the famous "airs above the ground", which include the levade, courbette, and capriole.
If you wish to learn western riding or enjoy endurance riding, you'll most likely also go out on trails. Many dressage holidays combine trail riding with training in the arena on a "train and trail" program. The majority offer the opportunity to train intensely, with both morning and afternoon riding sessions.